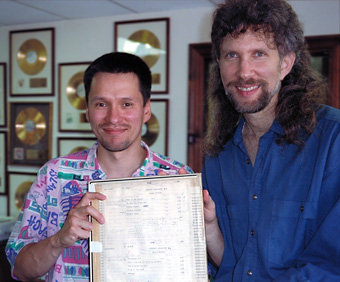 Steve Hoffman und ich bei DCC Compact Classics in Northridge/CA 1993. In der Hand das Original Master Tape von CCR "Green River."

Hey Claus, looks like your website is coming along nicely. I'm glad you still enjoy your DCC Gold CD's. You have been a true supporter of my work and of DCC for many years! In fact when we first met, back at the old DCC office in Northridge (before the earthquake), I knew that you were going to be a good friend. It's almost been 10 years since we've know each other. Time files (as they say in the USA).

At any rate, I am enjoying your site, and can't wait for you to add some photos of you and I from the old days. My hair was much too long then, but the photos are fun to look at after all this time.

I wish you well with your website.

Best,
Steve Hoffman, 2002
Hi Claus,

Thanks for designing this "fan site". I'm flattered that you took the time to do it! I wish you well in this endeavor and I am grateful for your time and long-standing interest in my mastering work. I value your friendship!

Best regards,
Steve Hoffman, 2005

Ich traf Steve Hoffman zum ersten Mal im Sommer 1993 und kenne Steve als einen sehr sympathischen Menschen mit einem großartigen Sinn für Humor.
Steve Hoffman abeitete als Mastering Engineer und Freelance A&R Consultant für verschiedene Plattenfirmen.
Für Audio Fidelity remasterte Steve einige der größten Pop und Rock Alben auf Gold CDs und Virgin 180g LPs, darunter America "America", Beach Boys "Pet Sounds", Jeff Beck "Truth", Alice Cooper "School's Out", Deep Purple "Machine Head", Spirit "Spirit" u.v.a.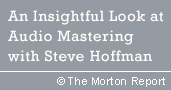 Steve Hoffman und Kevin Gray remasterte einige der größten Jazz Alben aller Zeiten für die "Definifitive 45 rpm Blue Note Reissues" von Music Matters, Ltd. und Analogue Productions.
Warner Bros./Reprise/Rhino Records veröffentlichte einige Klassiker, darunter James Taylor "Sweet Baby James" und "Mud Slide Slim", ZZ Top "Fandango" und "Tres Hombres", Fleetwood Mac "Rumours", Van Morrison "Moondance", Ry Cooder "Jazz" u.v.a. Remastered by Steve Hoffman & Kevin Gray von den original analogen Master Tapes bei AcousTech Mastering.

Für Chad Kassems Label Analogue Productions hat Steve Hoffman zusammen mit Kevin Gray den Backkatalog von Creedence Clearwater Revival auf SACD und Vinyl remastert, sowie über Hundert der größten Jazz und Blues Alben aller Zeiten. Steve Hoffmans Remixing und Mastering der wichtigsten Alben von Nat "King" Cole auf 45 RPM Vinyl und Surround SACD gehört zu den herausragenden Arbeiten in seiner Karriere. Das Nat "King" Cole Projekt veranschlagte über ein Jahr. Steve Hoffman remasterte zusammen mit Kevin Gray LPs für Warner Bros./Reprise Records und das englische audiophile Label Pure Pleasure Records Limited.


2002 startete Steve Hoffman seine eigene Homepage. Wenn Jemand ein audiophiles Musikforum sucht und seine Meinung mit Gleichgesinnten austauschen möchte, dann wird er dort fündig – mit über 100.000 Mitglieder und einer Million Hits pro Woche, ist es eines der größten und meist besuchten audiophilen Musikforen. DER Platz um über Musik zu diskutieren!